Where Nature Meets Grandeur
A lodge as grand as Kilimanjaro
and as personal as your heartbeat
Where Nature Meets Grandeur
A lodge as grand as Kilimanjaro and as personal as your heartbeat
Exquisite Luxury in the Wild
Welcome to Soroi Lions Bluff Lodge – Your Slice of Paradise in the Wild Kenyan Landscape.
Enveloped in lush greenery, with vistas of the majestic Kenyan panorama as your backdrop, we invite you to immerse yourself in an experience that transcends the ordinary.
Nestled within the pristine Lumo Community Wildlife Sanctuary on the edge of the vast Tsavo, our idyllic luxury retreat, Soroi Lions Bluff Lodge, is a testament to the grandeur of nature and the spirit of sustainability.
At the heart of the stunning Taita Hills, each of our 12 exclusive suites offers an intimate encounter with Africa's legendary natural beauty and uninterrupted views of the sprawling conservancy, the dynamic Tsavo, and the awe-inspiring Kilimanjaro.
Wake up to Africa's magnificent sunrise from the comfort of your hand-crafted four-poster bed, dressed in crisp cotton sheets, and start your day with a refreshing game drive or a tranquil bush walk. Savor a hearty breakfast, perhaps amidst flora and fauna, and let the enchantment of Soroi Lions Bluff Lodge unfold.
As our guest, you won't just indulge in a unique luxury experience; you will actively support our sustainability mission and local community upliftment. We're not just about opulent accommodations and world-class services; we're about providing an immersive, culturally enriching experience that gives back to the land and its people.
At Soroi Lions Bluff Lodge, we promise more than just a stay. We offer an unforgettable journey that captures the essence of Kenya – its diverse wildlife, remarkable landscapes, vibrant culture, and warm, hospitable people. Discover a place where luxury meets sustainability, and allow us to redefine your idea of an extraordinary safari.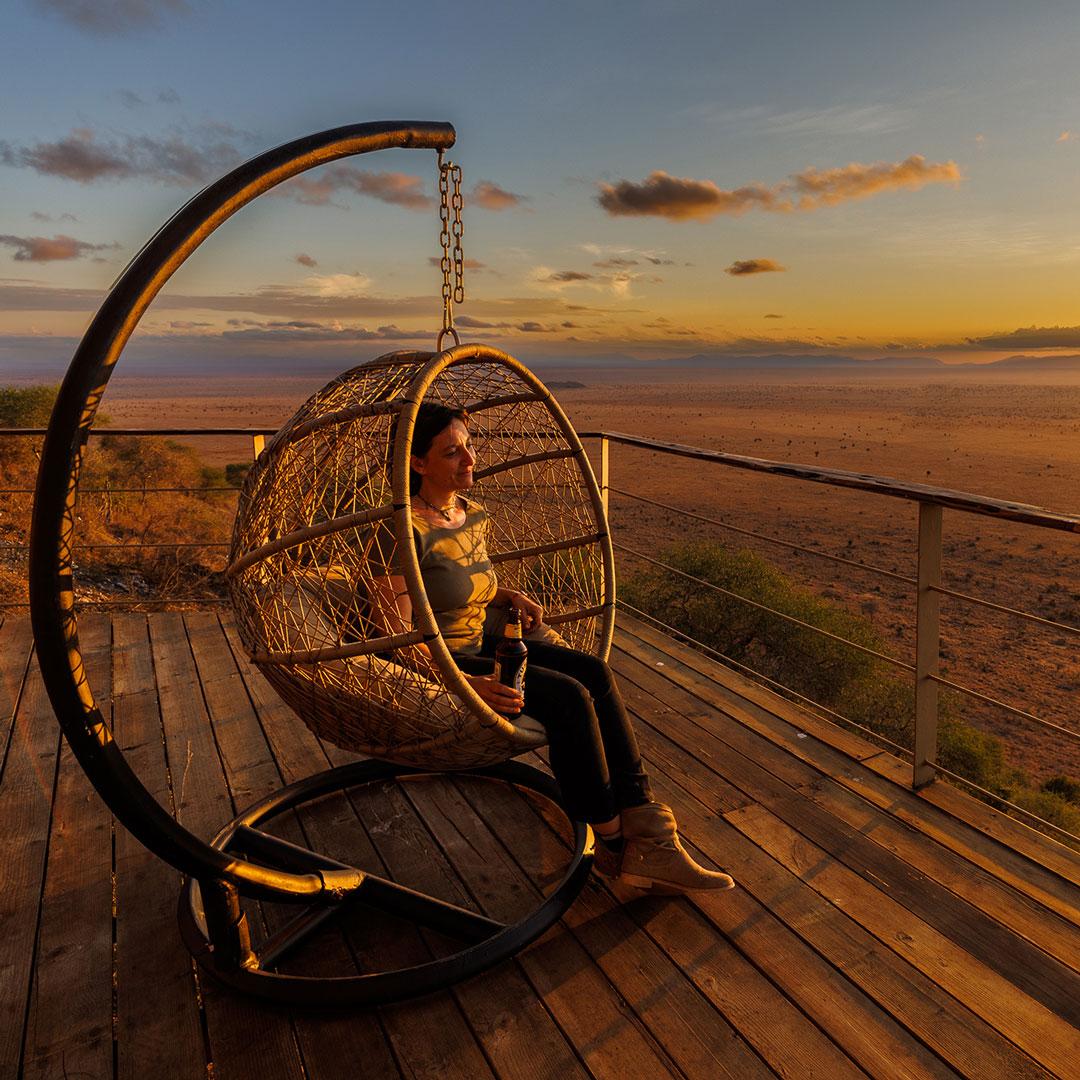 Soroi Lions Bluff Lodge
A luxurious boutique lodge, nestled amidst lush foliage and surrounded by breathtaking natural beauty, lies a hidden gem that promises to take your breath away.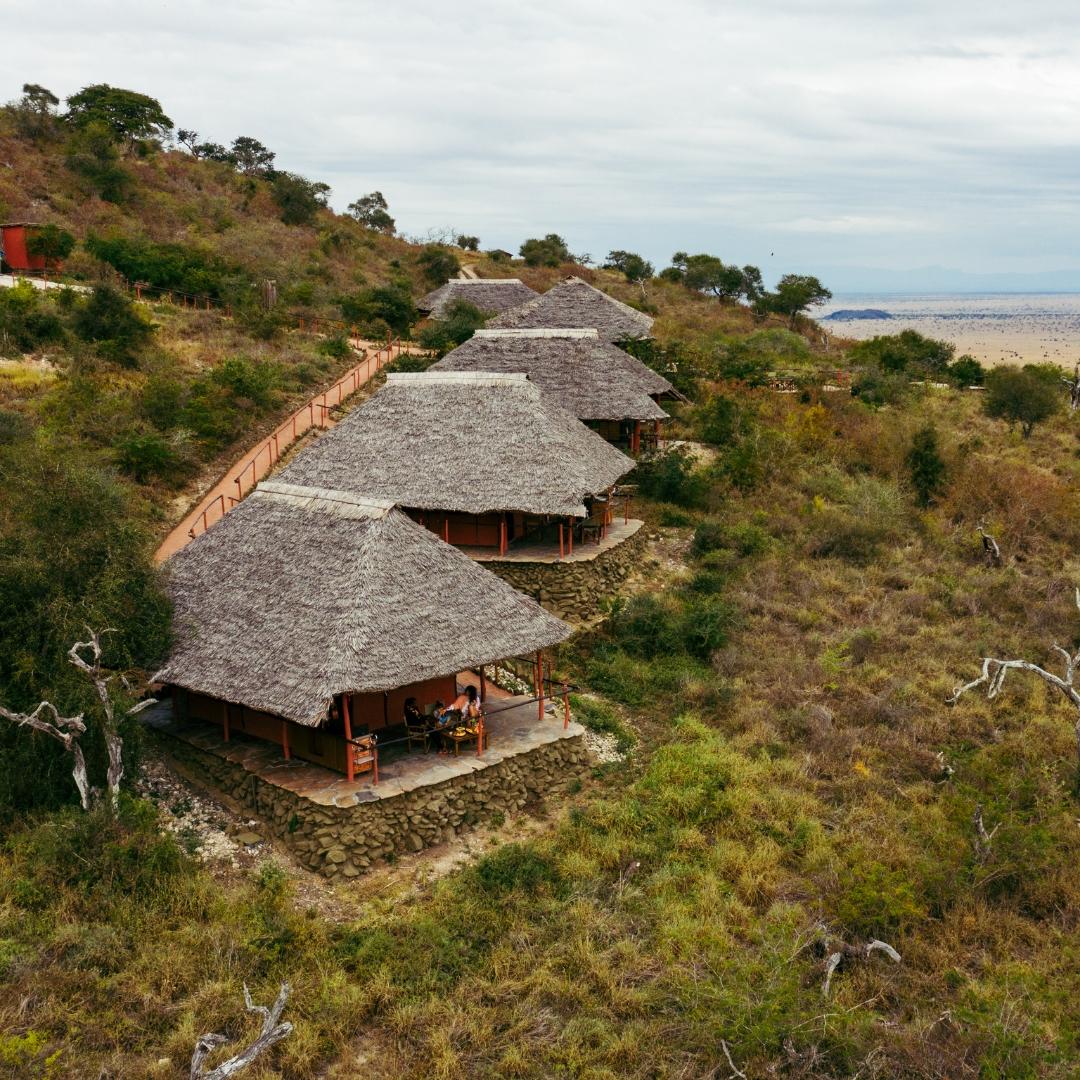 Soroi Leopards Lair
This intimate camp is located on the same hill as Soroi Lions Bluff Lodge, offering an exciting wilderness escape and an untamed safari experience.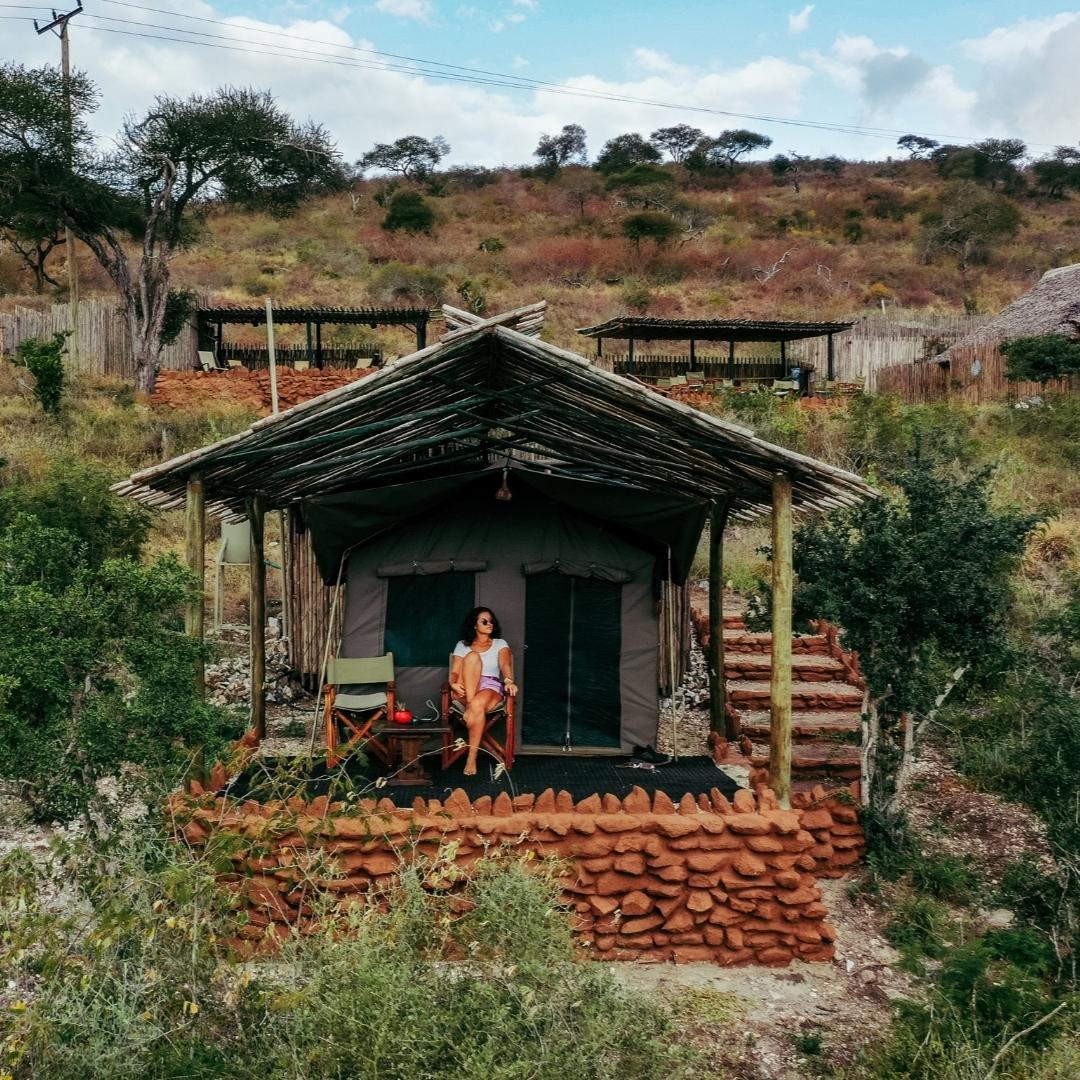 Soroi Cheetah Tented Camp
A comfortable adventure camp catering for a relaxed and friendly location to absorb the endless views Lumo has to offer.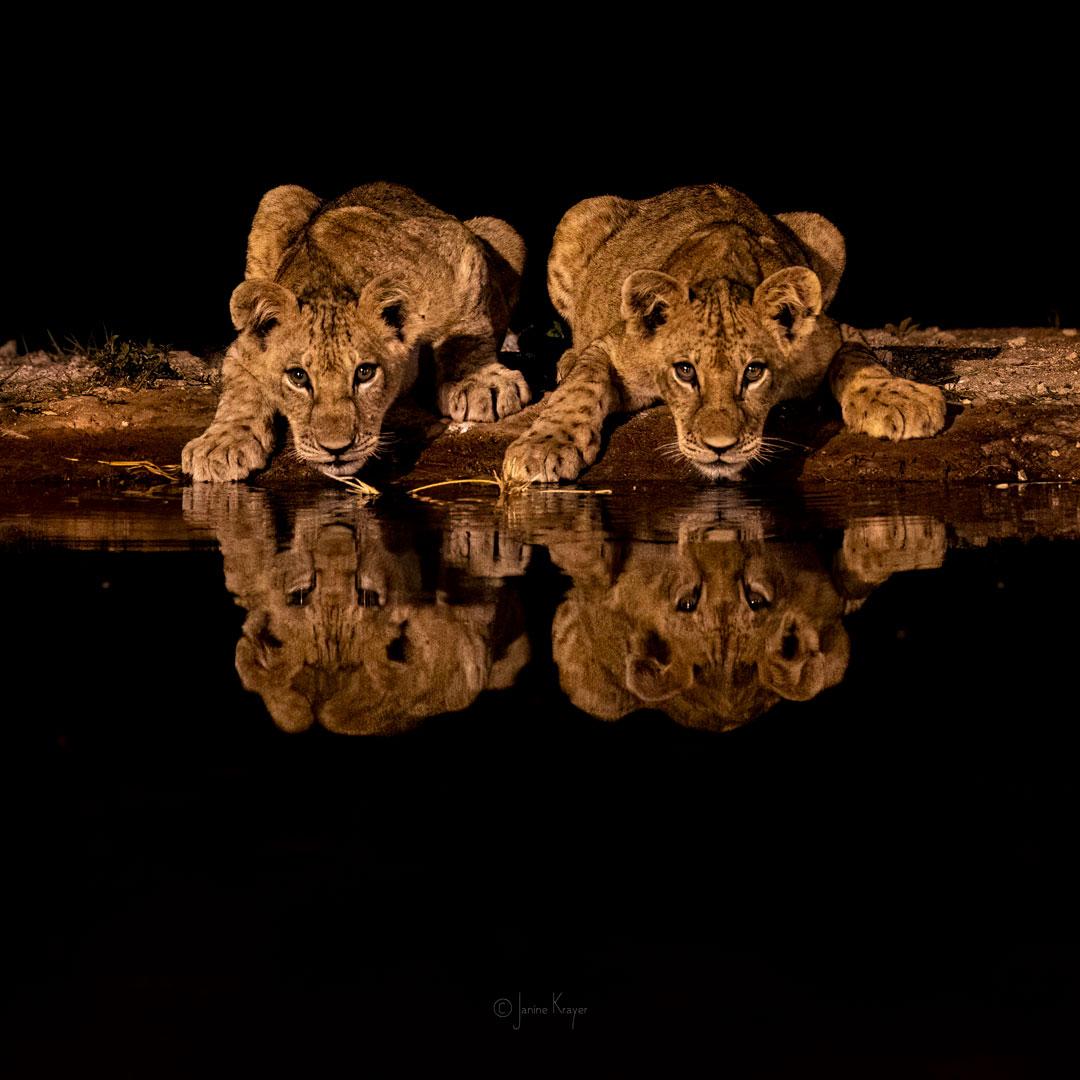 Soroi Photographic Hide
The Photographic Hide at Soroi Lions Bluff Lodge offers a unique opportunity to observe and photograph lions, leopard, and an array of other animals safely and discreetly.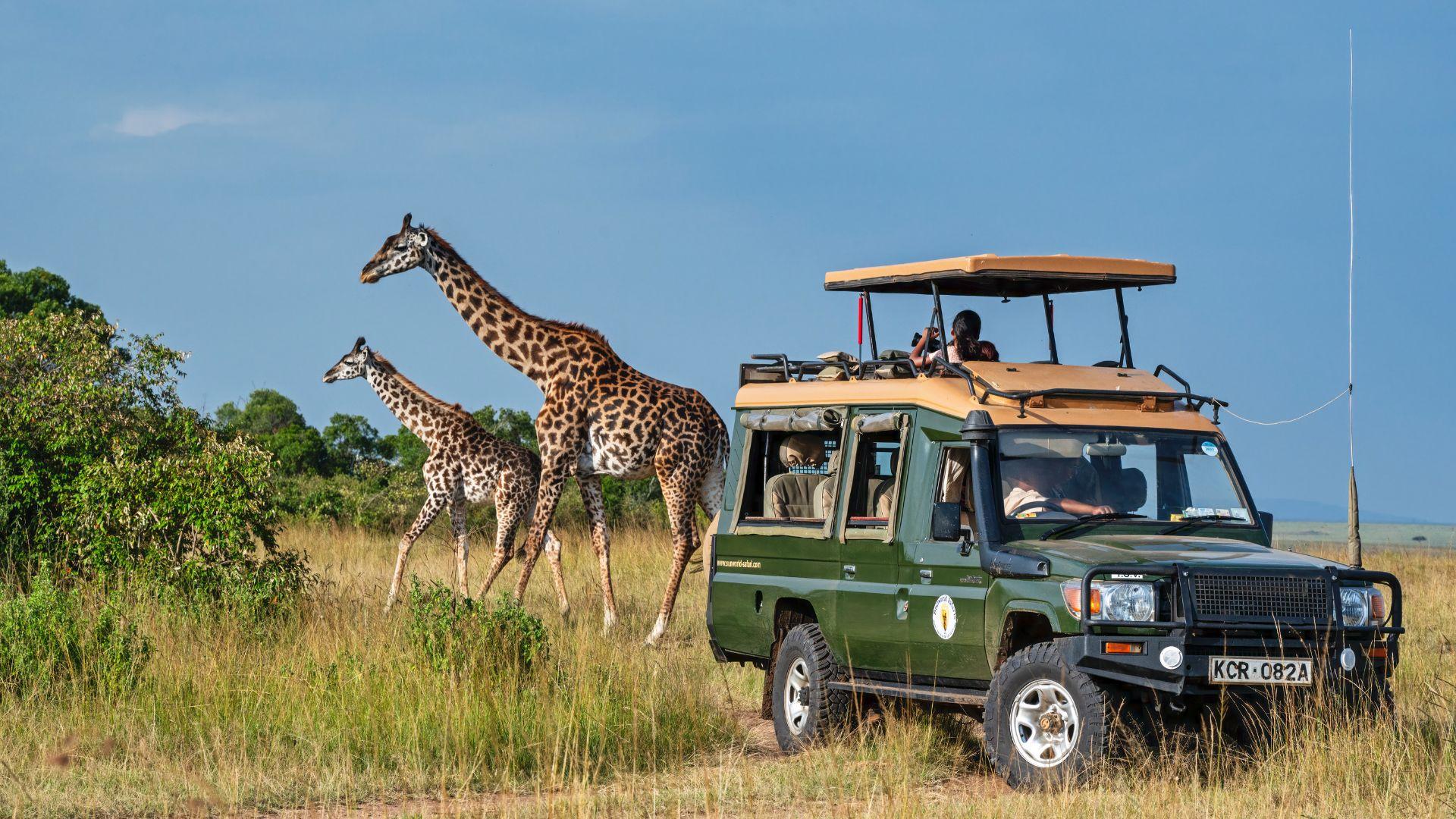 Lumo Community Wildlife Sanctuary
The Lumo Community Wildlife Sanctuary is a testament to successful wildlife conservation and sustainable tourism in Kenya. Established in the early 1990s through a collective effort by three local communities – the Lualenyi, Mramba, and Oza ranches, hence the name Lumo. This sanctuary was created to preserve the rich biodiversity and ensure the welfare of local communities. Today, it's a thriving habitat spanning over 46,000 hectares, offering visitors an unspoiled glimpse into the wild heart of Africa.
As a visitor to Lumo Conservancy, you can expect to be enchanted by its unique and diverse ecosystem. From the meandering riverine forests to open savannah grasslands and hilltop vistas, every aspect of Lumo teems with life. Home to a wealth of wildlife, including elephants, lions, buffalos, cheetahs, and an array of bird species, each safari here promises a new and thrilling disco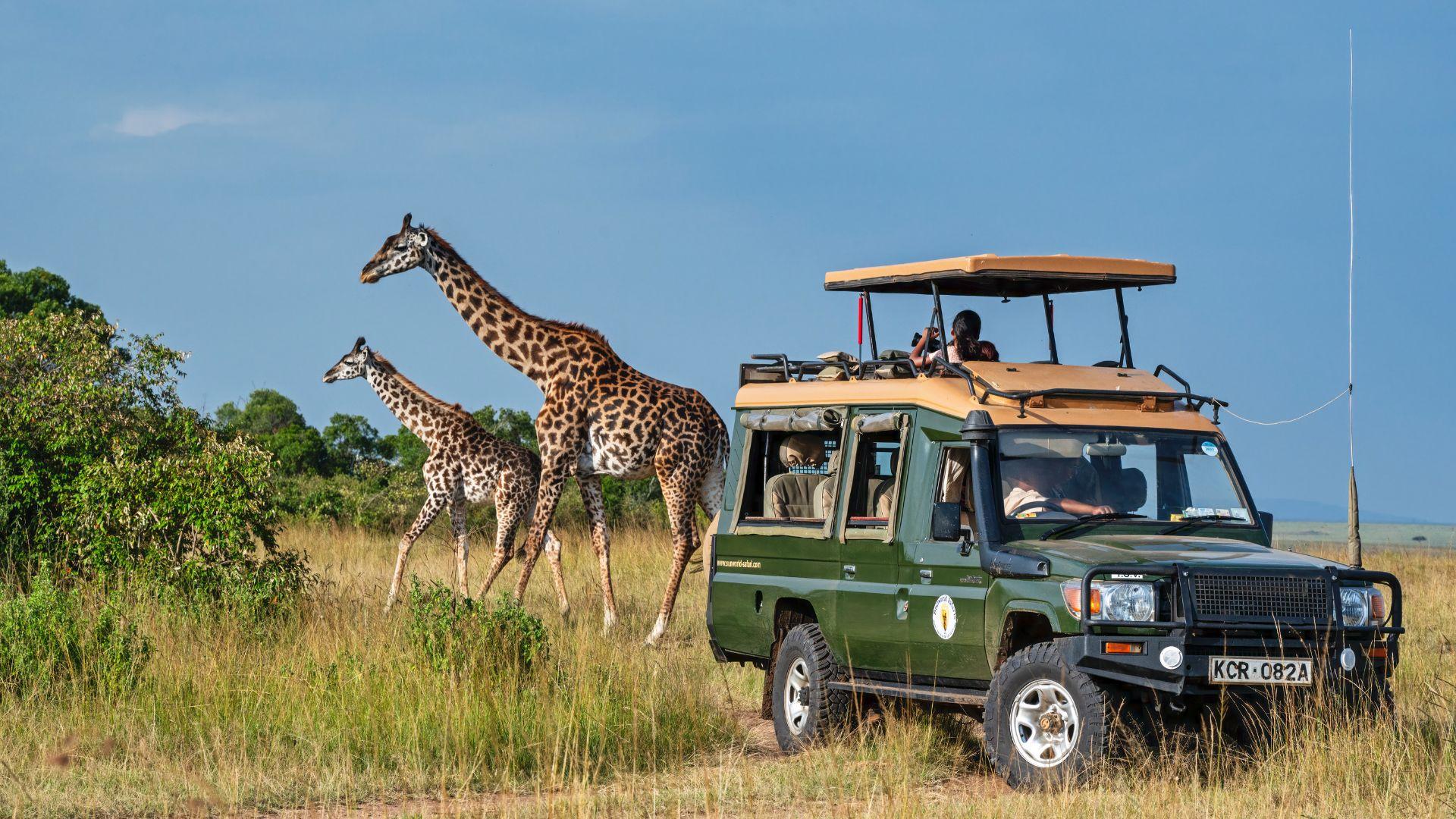 The Community & Wildlife Conservation (CWC) is a beacon of hope for both environmental preservation and community development in Kenya. As a non-governmental organization, CWC is wholeheartedly committed to fostering a harmonious co-existence between wildlife and the local communities that share their environment. 
Soroi Lions Bluff Lodge plays a pivotal role in supporting these initiatives. Each stay at our lodge directly contributes to CWC's endeavors, from protecting the diverse flora and fauna of Lumo Conservancy to enhancing the livelihoods of local communities through education and employment opportunities.
Visit www.community-wildlife.org to find out how you can contribute
Lions of Lumo
An Exquisite Safari Adventure
Day 1
Travel from Wilson Airport to Taita Hills, sweeping over awe-inspiring Kenyan landscapes. Settle into the luxurious Soroi Lions Bluff Lodge, relishing in breathtaking views of Lumo Conservancy.

Day 2
Awaken to the wild serenade of Africa. Post breakfast, buckle up for an exciting 4×4 safari. A skilled guide helps you track majestic lions and local wildlife. An evening sundowner awaits as you gaze over the changing hues of the African wilderness.

Day 3
Beat the sun for an early morning game drive. Witness predators spring into action, a spectacle to remember! Afternoon brings your first-night game drive, immersing you in nocturnal wildlife. The day concludes with the authentic tastes of African cuisine.

Day 4
Embark on an exploration of the sanctuary's untouched corners. The Photographic Hide grants you a golden chance for capturing stunning wildlife shots. After a farewell dinner, take on the African night one last time with a night game drive.

Day 5
Relish a relaxed morning and breakfast. Reflect on your adventure as you fly back to Wilson Airport. The 'Lions of Lumo' adventure concludes, leaving you with unforgettable memories from the heart of Africa.

Ready to tantalize your Safari Tastebuds?
Paradise on a Mountaintop Lion's Bluff was, in a word, incredible. I have stayed in a variety of nice places, including ecolodges, around the world, and Lion's Bluff was the best by far. Two things make it very special. First, the staff is incredible. They welcome you, and make make you feel like you are part of their community. They take care of you in all sorts of big and little ways: walking you to and from your bungalow in the dark, providing binoculars for your game drives, giving luxurious picnic boxes for your early morning game drives, and of course that hot water bottle under your sheets from when it gets cold at night. You get the feeling that they are really happy there; I appreciated the single Tip Box to tip everyone at the end, rather than individual tips (as there are so many people who make your stay special!!) I know that they give back to the local community in a variety of ways, but I am curious whether/how they are providing this training to both staff and community to improve their expertise in the hospitality industry (and prepare them for management). The second reason that Lion's Bluff is incredible are the bungalows. It is designed to be paradise on the mountaintop, with beautiful, appropriate, indoor and outdoor seating so that you can enjoy the extraordinary views of the expanse and when it cooperates, Mt. Kiliminjaro! All of the walls are glass (although there are curtains for the evening if you need them) so that you can always have a beautiful view. Lumo Conservancy itself is a really wonderful, hidden gem (especially in comparison to the more crowded Amboseli). But I would go out of my way to stay at Lion's Bludd, and hope to do so again!
TSAVO LUXURY AT ITS PEAK Where to begin, this place was the perfect start to our honeymoon. Right from the start, we felt welcomed and at peace. The views are spectacular, spreading from Taita Hills to the Tsavo plains. The Tipe room was excellent; fluffy bedset, great finishes and a huge his/hers bathroom. The service was on point, bigs thanks to Donald and Cosmas for taking care of us during meal times. Reception staff with instantaneous response, their resourcefulness is much appreciated. Big shout out to the manager for being so friendly and for setting up a bonfire dinner we'll always remember. Overall, we couldn't have asked for a better experience and every penny spent on this place was worth it. Can't wait to return one day.
Hidden gem Excellent resort within Lumo Conservatory. Rooms - amazing view, spacious, modern design. Food - delicious, great variety, good vegetarian options. Staff- excellent! Staff are friendly knowledgeable and very interactive. Activities- game drives, village visit, hiking, massages ( more are offered). Would recommend this lodge for families or couples. You will not be disappointed!
Tsavo Safari + Diani Beach Literally perched on a bluff with sweeping views in every direction. Each suite captures every detail perfectly. Impeccable service. We arrived from Mombassa, enjoyed our safari and continued on to diani beach. Lions Bluff Lodge was outstanding!
SIMPLY MAGNIFICENT...... Wow wow experience. it was beyond our expectation....such a beautiful place...serene...calming...... Timely pick up from VOI SGR station by Duncan (our driver and tour guide ) such a gentleman and great guide - quite knowledgeable on animals, birds and the surrounding vegetation in Lomu conservancy....truly impressed. The first striking thing is how the lodge is perched on top of the mountain...simply amazing. The rooms are so spacious and with outside view from all angles.....BREATHTAKING. showering as you view beautiful scenery outside is so therapeutic and out of this world experience. The restaurant so well placed and the food was so delicious and the mocktails...eating and drinking as you enjoy the beautiful surrounding scenery added the flavor. and then in te evening louning round the fireplace,,,,waaa niceeeeeee. Despite the cold breeze i couldnt stop the urge to experience the infinity pool...sitting in that pool and enjoying the beautiful scenery was another therapeutic experience and time just ticked by....and the pool area setting is great..the pool side bar, the fire place the BBQ/Pizza corner.. so much on offer. The staff all so professional and friendly ....and ready to assist. and they crowned it all by stepping in as family and friends to present a birthday cake to my husband who had turned 60 years, in style and pomp (wish i could post the video here). We also experienced the relaxing body massage done in the comfort of our room. I could o on and on and on......but let me stop here. I shared photos and videos with all my friends and relatives and i know i will surely be back.....with my women friends for our annual retreat...too right a place. The whole experience at Lions Bluff was the best Birthday gift from the children to their father. Asante sana Team Lion Bluff M. Simgwe Odhiambo
Magical Lion's Bluff We had visited Lion's Bluff over the years under it's previous ownership and loved it .. so when changed hands and revamped we had to see what they've done! Beyond our wildest imagination was the result! Beautiful glass fronted rooms with 180 degree views down to the Tanzanian border. Amazing staff giving us their full attention and excellent service. And as for the food .. what a chef in Sebastian .. local, healthy, beautifully presented. We cannot thank Michela (the Manager) enough for our wonderful conversations, Bonnie (our driver and guide) for fantastic game drives and such knowledge .. we learned a lot.. All in all the most magical 4 nights we've spent on a 'safari' ending in a beautifully staged fireside dinner on our final night to celebrate our anniversary. The atmosphere, service, food and game drives excelled our expectations .. we're already planning our return visit x
Amazing lodge, food and staff It's hard to describe how lovely and healing my stay was at Lions Bluff. The views from everywhere at the lodge were amazing. Michaela is the perfect host, greeting every guest and checking to see that everything is perfect. Chef Sylvester and his crew created meals that were almost too beautiful to eat but once you dug in every bite was delicious. It was very nice to stay at a place where the entire staff was so helpful and happy. Thank you all for a wonderful experience.
Magical, Mystical Lions Bluff Lodge has it all - views to die for, rooms to swoon over, excellently prepared food by Sylvester and his staff, game drives of wonder, all beautifully managed by Mikayla (spelling?). AND - they give back to the community. - Loved every minute there.
JUST WOW! Fantastic luxury eco-lodge in the Lumo Conservancy of Tsavo National Park. The views are stunning from the top of the hill, overlooking the savanna and the Kilimanjaro on the back ground (literally at your feet when lying in your bed!) Decorated with taste, excellent food, and curated hospitality. Must visit!! Thank you to all of Lion's Bluff team for this beautiful experience!
We Loved Lions Bluff! Fantastic stay. We loved every aspect of our time at Lions Bluff and hope to return again soon. The views are incredible! Great food and the chef prepared special food on request for our 1 year old daughter. Spacious cottage. Excellent game drives—saw and identified many birds. Photographed lions in picturesque settings. The staff gave us a special private birthday dinner. Will give 5 stars to all the staff! Felt like home! We will be back whenever possible!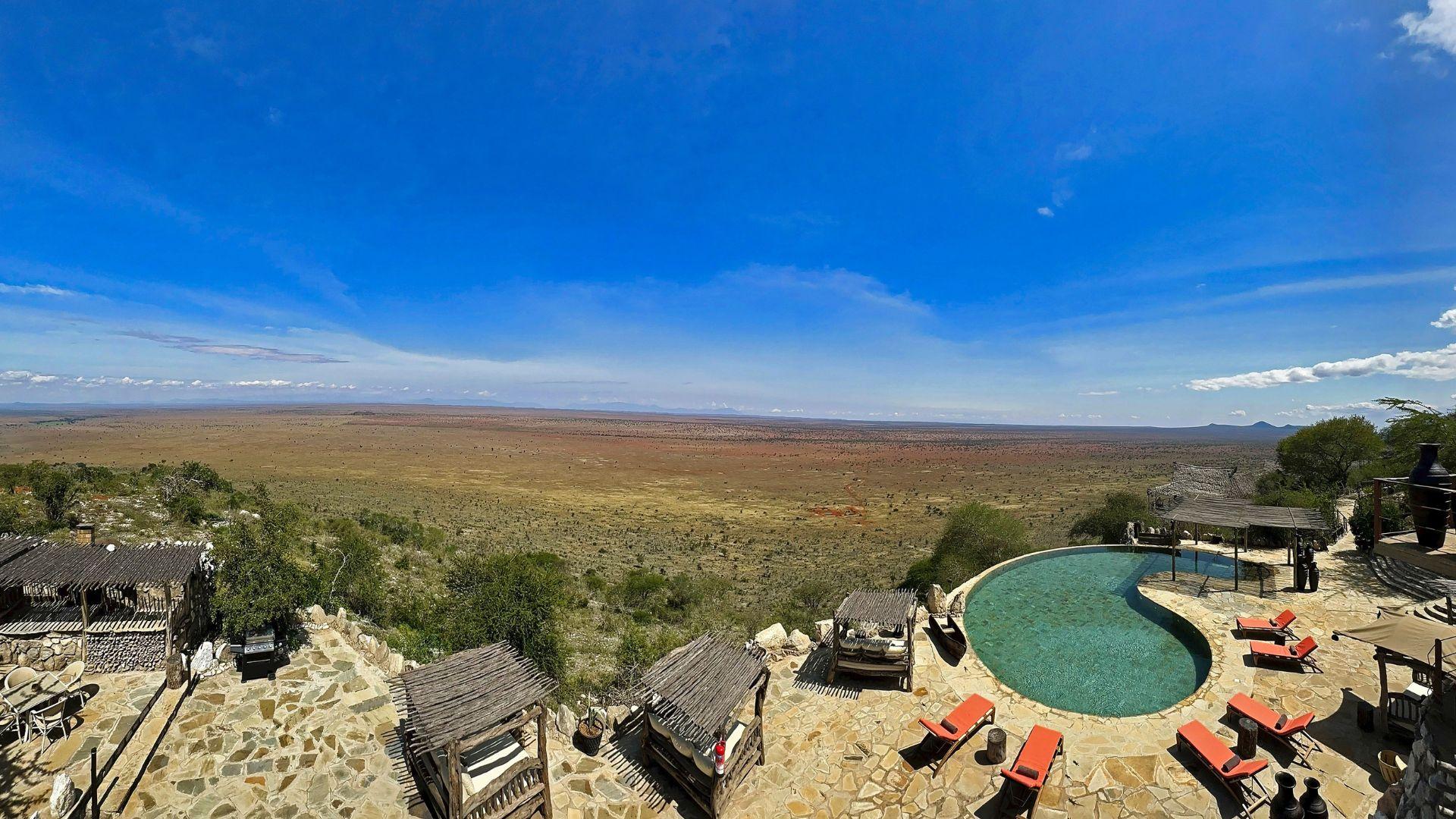 Getting to Soroi Lions Bluff:
Your Pathway to Lumo Conservancy's Luxury Retreat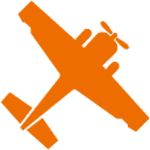 By Air
Flying in to Taita Airstrip
FlyALS offers daily afternoon scheduled light aircraft flights to and from Taita Airstrip
By Rail
SGR Train to Voi Station
A convenient and comfortable rail journey takes you to Voi Station, followed by a 1h55 road transfer to Lumo Conservancy.
Soroi Lions Bluff Lodge
Soroi Leopards Lair
Soroi Cheetah Tented Camp
Embrace the Wild:
Six Unforgettable Reasons to travel to Soroi Lions Bluff
Unmatched Views
There are few places in the world where you can awaken to the sight of the mighty Kilimanjaro bathed in the soft glow of an African sunrise or watch herds of elephants roam against the backdrop of the expansive Tsavo. Soroi Lions Bluff offers these mesmerizing views and more, all from the comfort of your suite or while enjoying a meal on our panoramic viewing decks.
Ease of Access
At Soroi Lions Bluff, the journey is as important as the destination. With daily return scheduled light aircraft transfers from Wilson Airport and convenient SGR train services to Voi Station, your adventure starts when you leave home and lasts until you reluctantly bid us goodbye.
Exclusivity and Seclusion
With only 12 rooms, Soroi Lions Bluff ensures an intimate and exclusive experience. We cater to a limited number of guests, allowing us to provide personalized services and ensuring the utmost privacy and tranquility. Here, you can fully immerse yourself in the African wilderness, undisturbed by the world beyond.
Pioneering Conservation Efforts
By choosing Soroi Lions Bluff, you directly contribute to conserving Kenya's extraordinary biodiversity. We're deeply committed to preserving our local ecosystem and operating sustainably to minimize our footprint. Our partnership with Lumo Community Wildlife Sanctuary further supports wildlife protection and community development.
Cultural Immersion
Soroi Lions Bluff is more than a safari lodge; it is a gateway to authentic Kenyan culture. From engaging community visits to interactions with local staff, you'll have the opportunity to immerse yourself in the Taita people's traditions, stories, and warmth.
Unforgettable Safari Experiences
Our location in Lumo Conservancy, right on the edge of Tsavo, offers unique opportunities for wildlife viewing. Whether you explore on a game drive or tread lightly on a guided bush walk, you'll encounter a myriad of wildlife – lions, elephants, buffalos, and countless bird species, among others – all in their natural habitat. Our professional guides ensure enriching and safe encounters with the wilderness.
Come Visit Us
Lumo by Air
Daily Scheduled Light Aircraft Transfers from Nairobi Wilson
Lumo by Road
7-hour drive from Nairobi
3.5-hour drive from Arusha via Taveta Border