KENYA
An unrivalled holiday destination
As a holiday destination Kenya is unrivalled.
An ancient land born of ice and fire, such are the extremes of the Kenyan climate, which ranges from tropical heat to glacial ice, that it has formed a diversity of habitats found nowhere else on Earth.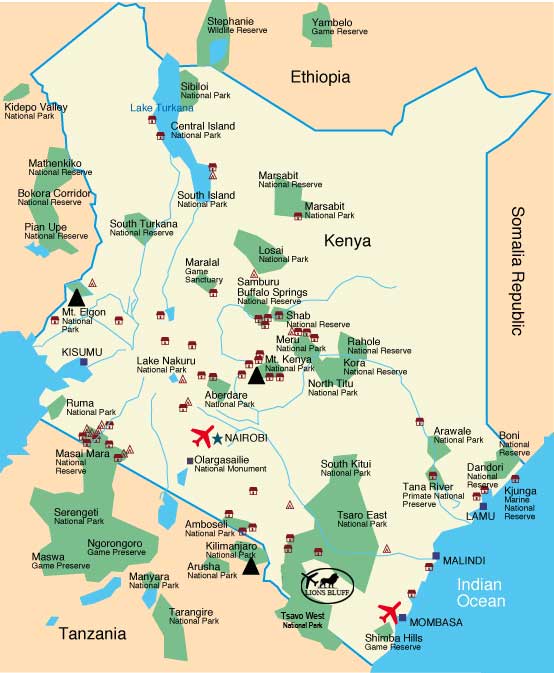 A vast mosaic of lion-gold savanna, rolling grasslands, ancient rainforests and volcanic plains, Kenya rises from the idyllic shores of the Indian Ocean to the snow-capped peaks of Mount Kenya which, at 5,199 metres above sea level, is an extinct volcano some three and a half million years old. A natural paradise, Kenya is also a cultural microcosm and the age-old 'cradle of mankind'. Kenya's people, united under the green, black and red of the national flag, comprise more than 50 ethnic groups and their warmth and hospitality is best expressed in the national motto; 'Harambee'; meaning 'let's all pull together'.
Official name The Republic of Kenya. Kenya is named after Mount Kenya or 'Kirinyaga', the 'Mountain of Whiteness'.
Capital city Nairobi (Nyrobi meaning 'the place of cool waters' in Maa). The highest city in East Africa (1,700 m), modern and fast growing, Nairobi has over 4 million inhabitants (estimated).
Main cities Mombasa is the coastal capital and the largest port on the East African coast. Other major cities include: Kisumu, Eldoret and Nakuru.
Area Kenya covers an area of 583,000 sq km, 13,400km of which is inland water, including part of Lake Victoria. The coastline is 536 km long.
Borders Kenya is bordered by Ethiopia, Sudan, Somalia, Uganda and Tanzania.
Climate The coast is hot with an average daytime temperature of 27-31 degrees centigrade whilst the average daytime temperature in Nairobi is 21-26 degrees centigrade. Nairobi can become cold enough for coats and fleeces; July and August mark the Kenyan winter. Temperatures elsewhere depend on altitude. Typically, January-February is dry, March-May is wet, June-September is dry, October-December is wet.
Population 33.9 million (2005 est.), 42.5% of whom are under 14 years old, with a growth rate of 2.56%, one of the highest in the world. It is estimated that 50% of the population live below the poverty line.
Ethnic makeup There are over 40 tribal groups distinguished by two major language groups: Bantu and Nilotic. The largest tribes of the Bantu are the Kikuyu, Meru, Gusii, Embu, Akamba, Luyha and Mijikenda. The largest tribes of the Nilotic are the Maasai, Turkana, Samburu, Pokot, Luo and Kalenjin. A third group made up of Cushitic-speaking peoples includes the El-Molo, Somali, Rendille and Galla. The coastal region is the home of the Swahili people.
Religion Christianity, Hinduism, Sikhism, Islam and traditional beliefs.
Language English (official), Kiswahili (national), multiple ethnic languages (Bantu, Cushitic and Nilotic language groups). Literacy: 85% of population over age 15 can read and write.
Currency Kenya shilling (Ksh); slang 'bob'.
Time GMT +3 all year-round.  Kenya maintains an almost constant 12 hours of daylight. Sunrise is typically 06.30 and sunset at 18.45.
Electricity 220-240 volts AC, with standard 13-amp three square-pin plugs.
Water Kenyan tap water is not safe to drink. Bottled water is readily available.
International telephone code +254. Dial 000 followed by the required country code to dial out of the country.
National Parks and Reserves Kenya's total wildlife conservation area is 44,359 sq km or 7.6 % of the total area. The main parks are: Aberdare National Park, Amboseli National Park, Hell's Gate National Park, Lake Nakuru National Park, Meru National Park, Mount Elgon National Park, Mount Kenya National Park, Nairobi National Park, Tsavo East and Tsavo West National Park. One of the most popular tourist destinations, the Maasai Mara, is designated a National Reserve. There are two major marine parks: Mombasa Marine National Park and Malindi/Watamu National Park. Details on all Kenyan National Parks and Reserves can be obtained from: Kenya Wildlife Service (KWS) Tel: + 254 (0) 20 600800. Email: tourism[a]kws.org or www.kws.org
Kenya's flora is diverse. Coastal forests contain palm, mangrove, teak, copal and sandalwood trees. Forests of baobab, euphorbia and acacia trees cover the lowlands to an elevation of approximately 915m. Extensive areas of savannah are interspersed with groves of acacia and papyrus, which characterize the terrain from 915 to 2,745 m above sea level. Bamboo and camphor are common in the dense rainforest of the eastern and southeastern mountain slopes. The alpine zone (above 3,550 m) contains many Senecio and Lobelia plants.
Fauna There are 80 major animal species ranging from the 'Big Five' (elephant, buffalo, rhinoceros, lion and leopard) to tiny antelopes such as the dik-dik, which is slightly larger than a rabbit.  At least 32 endemic species are endangered.
Avifauna Kenya boasts around 1,137 species of birds. Spotting over 100 bird species in a day is not uncommon.